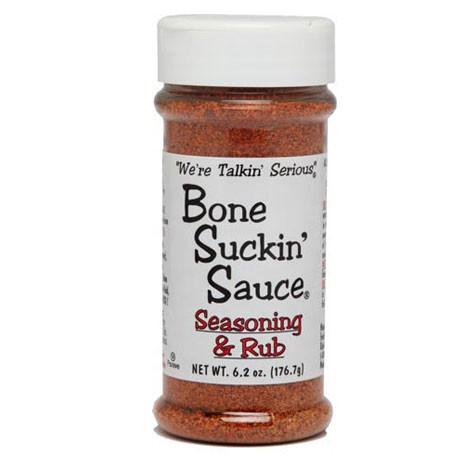 You will wonder how you ever lived without it! The Original Seasoning & Rub is a proprietary blend of brown sugar, paprika, garlic and spices that is perfect for marinating and BBQ – even popcorn and salads. Great on Ribs, Pork, Beef, Chicken, Seafood, Venison, Beans, Pasta, Vegetables, Steaks… just about anything.
Use amply for that Bone Suckin' flavor ! FOR: Ribs • Beef • Pork • Chicken • Pasta • Dipping • BBQ • Seafood • Vegetables • Fish • Stir Fry • Marinating Bone Suckin' Seasoning and Rub New Potatoes Recipe.
Bone Suckin' Rub
Ingredients: 
Brown Sugar, Spices, (Including Chili Pepper), Salt, Sugar, Paprika, Dehydrated Garlic, Onion & Bell Pepper, Citric Acid, Natural Flavor. No MSG!
Allergy Statement:
Manufactured in a facility that uses eggs, soy, milk, fish, shellfish, wheat and seed products. 
Additional Information: All natural, no preservatives, gluten free, Non-Irradiated, certified kosher, and pareve.