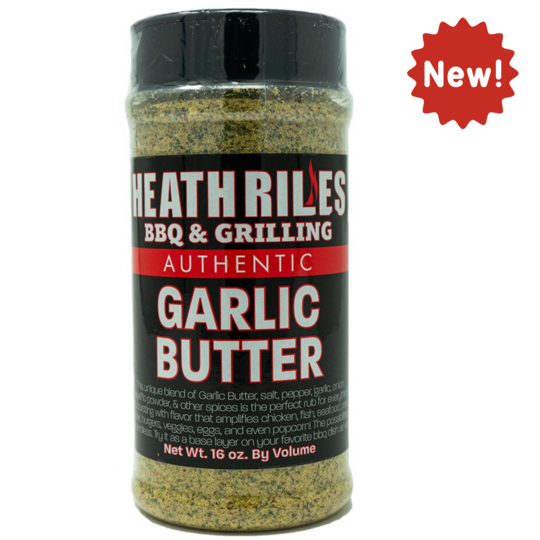 Get ready to taste the best thing since sliced bread.
We took our #1 selling Garlic Jalapeño Rub and blended it with a unique Roasted Garlic Butter Blend! It's amped up Garlic flavor, salt, pepper, onion powder, jalapeño powder, sugar, & garlic powder combined with a few other spices take this rub to new levels! It's bursting with flavors that amplifies steaks, chicken, seafood, veggies, popcorn, fish, pork, burgers, eggs, and more! The possibilities are endless. Use it as a base layer and combine it with one of our other rubs to create your own unique flavor profile! 
Ingredients: Salt, Sugar, Dehydrated Garlic, Dehydrated Onion, Spices, Monosodium Glutamate, Butter Flavor, Modified Butter Oil, Dehydrated Butter, Guar Gum, Sodium Bicarbonate, Annato and Turmeric, Dehydrated Red Bell Pepper, Dehydrated Parsley, Refined Soybean Oil, Beta Carotene and less than 2% Tricalcium Phosphate added to prevent caking.
Size: 16 oz.
Amazing
I used it on chicken the first time. Better than I thought. Great flavor. Cannot wait to buy more. It may be my go to on many things now
Great flavor!
This rub is so versatile! We have used it on chicken, steak, broccoli, corn on the cob, potato salad and it has been delicious.
Grab 2, you will thank me later.
This is an awesome product to use while smoking your meats. I've also tried it on corn and broccoli with no complaints yet. If you want to serve some treats then you need this rub on your meats.
Buy This Rub!
I didn't know what to expect, with this Garlic rub. It was delicious. All I can say is just buy it you won't be sorry.