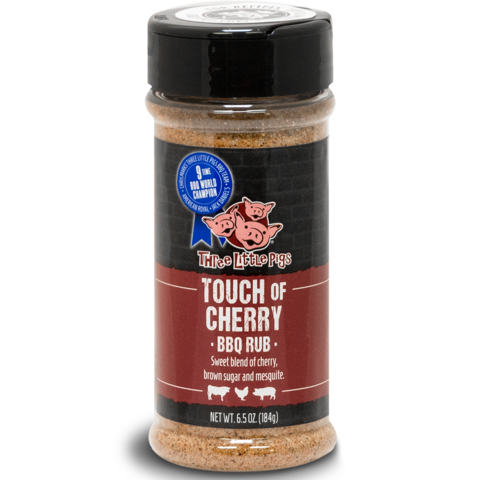 Three Little Pig's Kansas City Sweet BBQ Rub by 8x World Series of Barbecue Grand Champion, Chris Marks is a seasoning that will add a ton of flavor without straying away from the natural flavor of the meat itself. This is a mild BBQ rub that won't overpower ribs, pork, or chicken.
AWARDS: Chris Marks of Three Little Pigs BBQ is the winningest Pitmaster in American Royal History with 8 Grand Championships. He has also won the Grand Championship at the Jack Daniel's BBQ Competition.
INGREDIENTS: Brown Sugar, sugar, salt, dehydrated onion and garlic, chili pepper, paprika, natural and artificial flavor, natural mesquite smoke flavor.
Great all around good rub. Really our favorite!
Great on Pork, steaks, chicken and roasts. We like it in just about anything.
Touch of Cherry BBQ Rub
We purchased our first Shaker bottle of this powder rub in March. Fell in love with the flavors it added to our grilling. Used on steaks, chicken, pork, and hamburgers. Of course we ran out!! So, we looked online and found we could order directly. Ordered 3 shaker bottles so we won't run out!
I was so impressed how quickly they responded to my order and... they added a hand written thank you on the packing slip receipt. We will keep this as one of our continuing go-to spices for all our grilling.