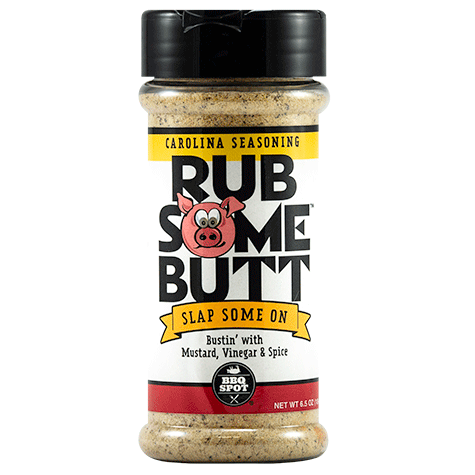 Rub Some Butt Carolina Style BBQ Rub is a mustard and vinegar based rub that makes a perfect start to your Carolina Style BBQ. Formulated for pulled pork or chicken perfection, this combination of seasonings has hints of brown sugar, onion, garlic and a bit of red pepper.
As J.T. would say, "In my mind I'm going to Carolina."  Bet he was thinking about Rub Some Butt Carolina Seasoning when he wrote that song.  Drive the back roads of the Carolinas, and you'll find some of the best BBQ shacks in the South. Well, this is their rub. With a hint of mustard and vinegar, your guests will think they've died and gone to Carolina.
My new favorite!
Perfect for making pulled pork sandwiches. I recommend the sauce as well.
Amazing
I would definitely but this again! My family loves the flavor and it pairs well with steak and chicken too!